A Pumpkin Patch at Center School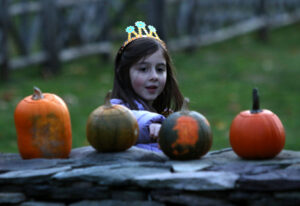 On Friday, 10/23, a Pumpkin Patch came to Center School children…right in the backyard of the elementary school. Litchfield Health & Wellness Resources was aided by a donation from Big Y to help defray the cost of 254 pumpkins. A created pumpkin patch was enhanced by hay bales and corn stalks donated by Rick Plum of Meadow Ridge Farm on Beach Street in Litchfield.  As the children came out of the school building, they found themselves in a patch of pumpkins from which each child chose a pumpkin to become their jack-o-lantern. And in the tradition of Halloween, each child received an apple!
Because of COVID-19 concerns, the creative staffs at all of the Litchfield schools are modifying the structure of favorite activities, while still presenting much loved special events…just in a different format.